24 November 2020 | Media Releases | Maxwell Wines
Canapés in the Cave Saturday Nights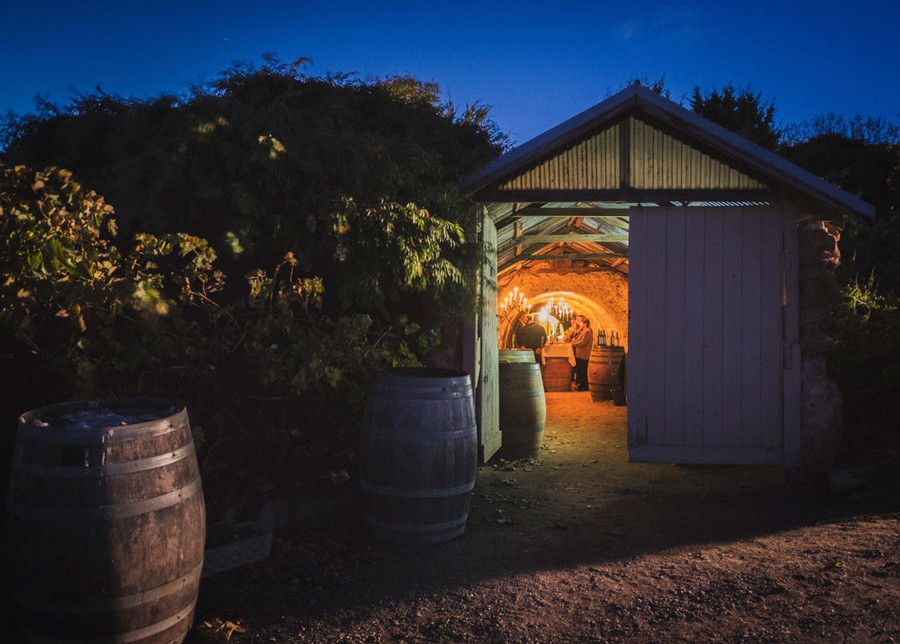 Maxwell Restaurant is celebrating its new Saturday evening opening hours next month, by offering its guests pre-dinner canapés in a 100-year old cave.
The brand-new dining experience, which launches on Saturday 5th December, includes a tour of Maxwell's working winery, along with champagne and canapés in its candlelit Lime Cave, gouged 50 metres into a limestone hill behind the cellar.
Diners will also be able to witness fresh mushrooms growing within the cavern, before indulging in the new degustation menu in the restaurant.
"We are thrilled to be able to offer this magical and memorable event at Maxwell's on Saturday evenings," says Founder and Winemaker, Mark Maxwell.
"The Lime Cave is one of our most talked about experiences, usually available exclusively to private bookings. Now, throughout December, our weekend diners can immerse themselves in its unique surroundings, before relishing the delectable dishes on our degustation menu".
Head Chef, Fabian Lehmann adds: "Once again, it's been a pleasure working alongside South Australian food producers to design and create our new summer menu. The team here are excited to present it to local diners and visitors who may be staying in McLaren Vale over the weekend and discovering the breath-taking beauty of this world-class food and wine region for the first, or even fifth time!"
The summer degustation menu features a selection of carefully curated dishes from our state, which can be paired with Maxwell's estate wines, for the ultimate regional dining experience.
Alongside its upcoming Saturday evening opening hours, Maxwell Restaurant is also open Friday to Sunday lunchtimes from midday.
Prices:
- Degustation menu: $110pp
- Canapes in the Lime Cave and Degustation Menu in the restaurant (Saturday 5th, 12th and 19th December only): $150pp
- Wine pairing: $45pp (current vintage), $70pp (museum selection)
For more information or to book, visit our Maxwell Experiences page or call 08 8323 8200.
Comments
Commenting has been turned off.