15 December 2022 | Maxwell Wines
Stellar lineup of events for Tasting Australia 2023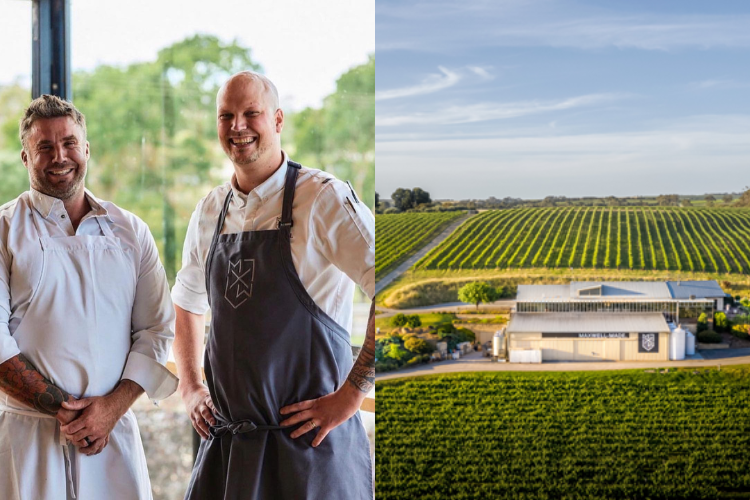 The 2023 Tasting Australia program has been announced and we're excited Maxwell's Executive Chef, Fabian Lehmann will once again showcase his culinary skills in Jacqui's Food Fetish Producer Showcase Dinner at Victoria Park Social Club and McLaren Vale Made, an excluisve Tasting Australia event hosted at Maxwell.
PRODUCER SHOWCASE DINNER | Thursday 4th May 2023
Victoria Park Social Club | $290 per ticket | Click here for more information and tickets
After the sell-out succuss of its debut appearance in 2022, Jacqui's Food Festish is bringing back the Producer Showcase Dinner with a new menu, venue and producer lineup, with acclaimed fine-dining chefs Fabian Lehmann from Maxwell and Scott Huggins from Magill Estate Restaurant. Expect a stellar six-course culinary journey of sheer indulgence featuring South Australia's finest fare. A selection set to include wild-caught southern rock lobster from Ferguson Australia, Mayura Station's full-blood wagyu beef, luxury artisan cheeses by Section 28 and more. Be quick, seats for the night are in high demand and selling fast!
McLAREN VALE MADE | Saturday 6th and Sunday 7th May 2023
Maxwell Wines | $295 per ticket | Click here for more information and tickets
Lose yourself in the moment at Maxwell as we host two exclusive Tasting Australia lunches over consecutive day, curated by a trio of chefs who share nature as their muse. Be inspired by Maxwell's Executive Chef, Fabian Lehmann, Gill Meller and Danielle Alvarez as they take you on a sensory journey throughout the winery, vineyards and 100-year-old lime cave. Finish in the Maxwell dining room, where a seated six-course lunch awaits. Hear from the chefs throughout the experience and take the opportunity to learn more about their craft and philosophies. Events not to be missed!
Comments
Commenting has been turned off.