6 September 2022 | Maxwell Wines
Maxwell Restaurant Wins Best Regional Restaurant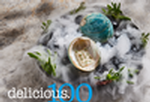 MAXWELL RESTAURANT WINS BEST REGIONAL RESTAURANT IN SA
We're excited to announce the Maxwell Restaurant has been awarded Best Regional Restaurant and Top 8 in South Australia in this year's Delicious.100.
After a two-year break, Australia's most trusted and comprehensive restaurant guide has returned. Delicious.100 is made up of four definitive lists that rank the most exciting, innovative, generous and delicious restaurants across South Australia, Victoria, New South Wales and Queensland.
"I feel incredibly proud that Maxwell has been named best regional restaurant. Our goal has always been to provide our guests with a special and memorable experience. I am very fortunate to work alongside a very dedicated and hardworking team. This is an incredible acknowledgement of all of the hard work we have all put in." said Executive Chef, Fabian Lehmann.
General Manager, Jeremy Maxwell added "From the ground up, our passion for producing quality wines and food is pivotal to our success, but this passion is surpassed by the love for sharing our wares and stories with others. This award is incredibly gratifying to know that what we are doing is really making an impact and people are forging lasting memories at the winery."
It's an honour to be recognised as one of the best alongside a calibre of outstanding restaurants in South Australia. Congratulations to all other restaurants.
This esteemed award comes off the back of the Maxwell Restaurant retaining its two Chef Hats at the 2022 Australian Good Food Guide Awards (AGFG).
Our restaurant is opened for lunch Friday, Saturday and Sunday with sittings from 12 noon and dinner service from 6:30pm on Saturday. Bookings are essential.
For the full list of South Australian Restaurants, visit Deliciou.100
Comments
Commenting has been turned off.