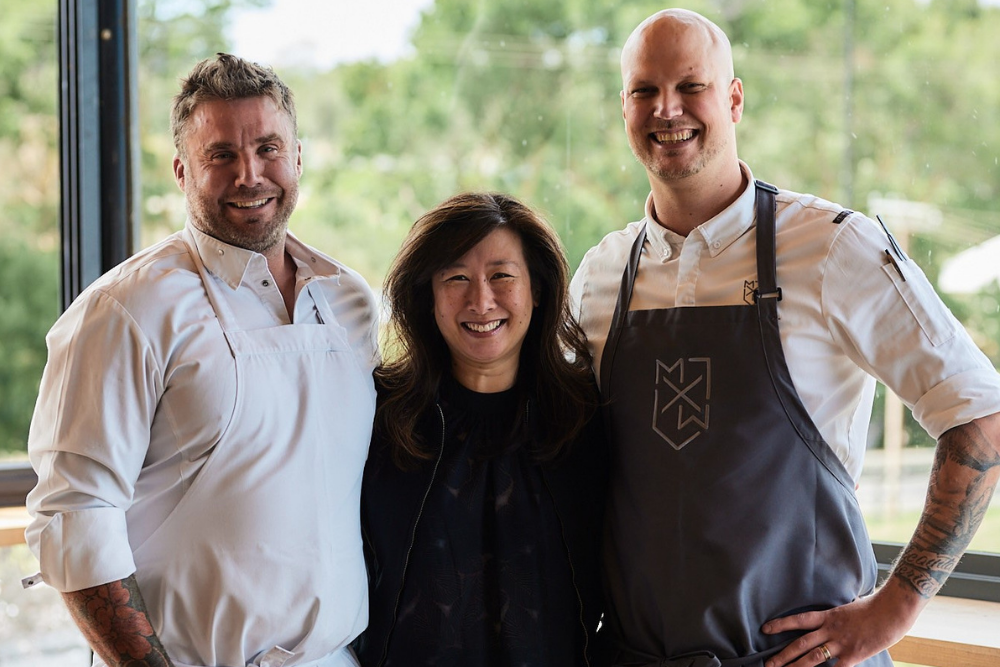 This year, Maxwell Wines and our very own Chef Fabian Lehmann are once again taking part in the Tasting Australia 2022 – a celebration of eating and drinking!
Tasting Australia is a showcase of all things South Australian: our people, our produce and our place. Each year audiences are invited to step beyond a standard food festival and discover deliciously different experiences that feed their curiosity. Indulgent lunches with friends, boutique beverages served fireside and menus created by world-class chefs are just a taste.
Chef Fabian Lehmann will be participating in the following events at this year's Tasting Australia.
L Plates: Fleurieu Finesse - 30 April
Chef Fabian Lehmann will be at TAFE SA, Regency Park for a fun, hands-on three-hour session. It will be held in a commercial kitchen with state-of-the-art equipment. All ingredients are supplied – you simply need to turn up and enjoy!
Click here for more information and tickets.
The Producers Dinner – 5 May
Jacqui's Food Fetish brings you an exclusive dining experience where acclaimed fine-dining chefs Scott Huggins of Magill Estate Restaurant and Chef Fabian Lehmann will create a six-course menu showcasing ingredients from some of SA's finest producers.
Click here for more information and tickets.
The Great Shiraz Dinner – 7 May
A celebration of shiraz in all its richly textured glory, and a meal uniting three of the hottest names in dining today. Including and our very own Chef Fabian Lehmann, Annie Smithers, and Dave Pynt will all be putting together menus that utilise the regional produce at the height of its season and take months of careful planning. This dinner is showcasing South Australia's shiraz from the Barossa, Adelaide Hills, McLaren Vale and Clare Valley.
Click here for more information and tickets.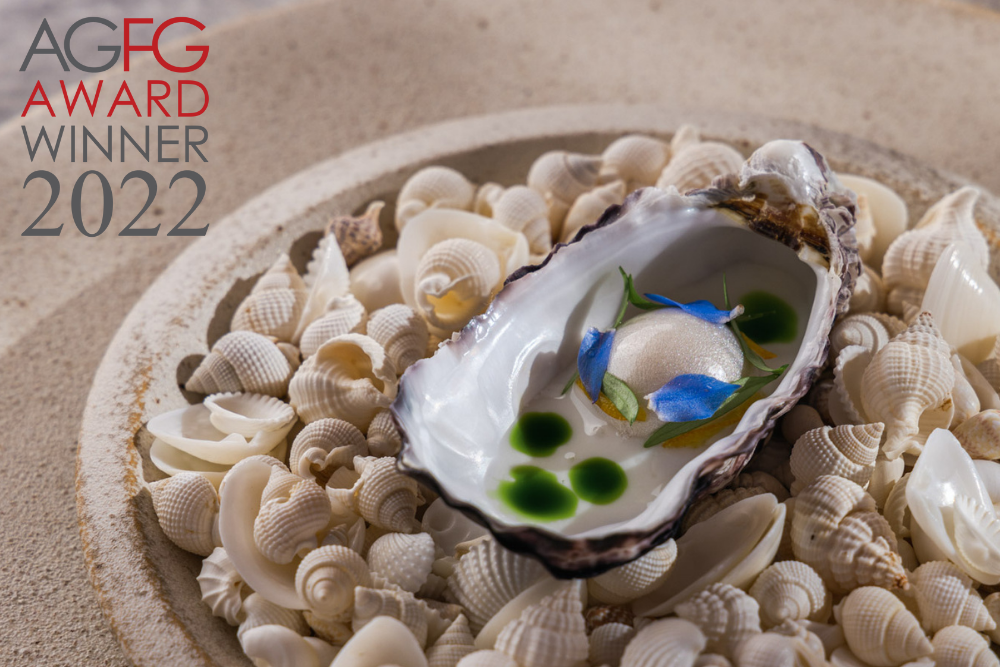 We are delighted to announce that Maxwell Restaurant has retained its two Chef Hats at the 2022 Australian Good Food Guide Awards (AGFG).
The national awards, set up in 1982 to recognise exceptional chefs, are presented for the standard of a restaurant's food alone – with a focus on ingredients, taste, presentation, and the techniques used. The results are compiled from anonymous dining by AGFG inspectors, and the reviews sent to them from the public.
Our Head Chef, Fabian Lehmann said: "We are delighted to have received two Chef Hats at the recent AGFG awards. It is testament to the hard-working team here at Maxwell and the exceptional quality of the food that we use from our local, South Australian food producers".
General Manager, Jeremy Maxwell added: "A huge congratulations to Chef Lehmann and his team on another well-deserved award win! The feedback from our guests about our multi-course tasting menu has been incredible and we are so pleased that the AGFG judges agree!"
Congratulations to all our fellow AGFG winners and everyone in the industry having survived what has been a challenging year!
Our award-winning restaurant is open for lunch Friday, Saturday & Sunday with sittings from 12 noon and dinner service from 6:30 pm on Saturday evening. We exclusively offer a multi-course tasting menu priced at $130 per person.
Bookings essential - click here or call 8323 8200.

Click here for more information on the Australian Good Food Guide (AGFG) Chef Hat Awards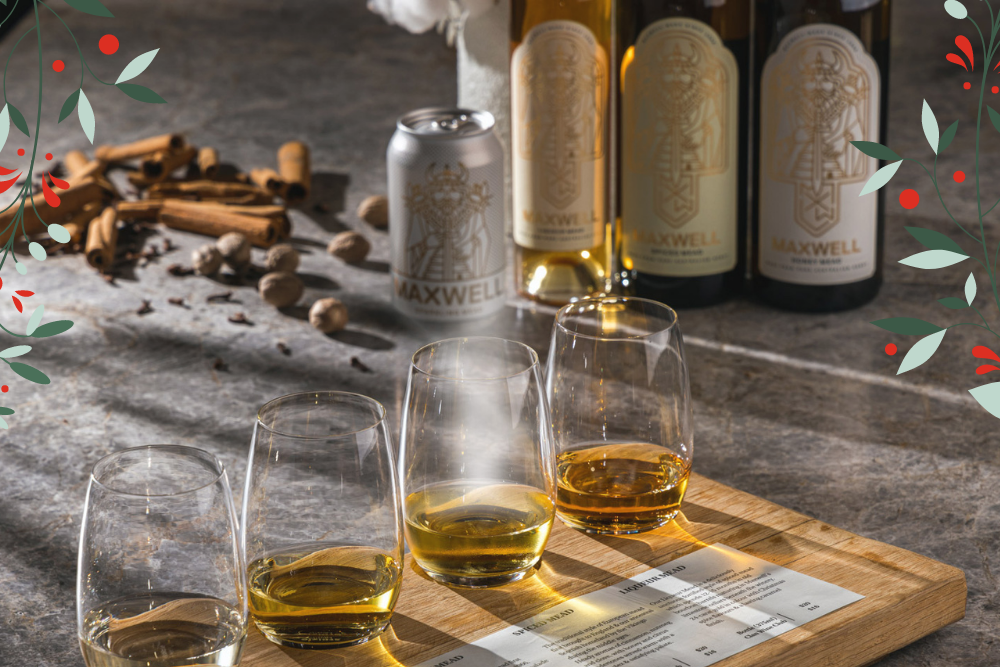 SPARKLING MEAD SPRITZ
With summer approaching, we have mixed up the perfect beverage to suit any summer occasion.
• Fill a white wine glass with ice
• Pour 80ml of Maxwell Sparkling Mead
• Pour 30ml of Maxwell Little Demon Envious Sparkling
• Pour 30ml of Aperol
• Add a splash of Soda Water
• Fresh orange slices & a sprig of rosemary

Method
Combine all ingredients in a white wine glass with ice. Garnished with two fresh orange slices & a sprig of rosemary.
________________________________________________
SPICED MEAD MARGARITA
• 50ml Maxwell Spiced Mead
• 30ml Tequila
• Juice of 2 limes
Method
Add Maxwell Spiced Mead, tequila, lime juice into a cocktail shaker with ice and shake vigorously. Use a lime wedge to rub generously around the rim of the glass and dip it into the salt. Strain and pour the cocktail into the glass and garnish with lime.
________________________________________________
NECTAR OF KINGS
Ingredients
• 30ml Maxwell Honey Mead
• 15ml Drambuie
• 10ml Cinnamon-infused Vodka
• 30ml Cold Steep Chamomile Tea
• Cup Ice Cubes
Method
Combine all ingredients in a cocktail shaker and shake.
Serve in a chilled martini glass with an orange wedge.
________________________________________________
MAXWELLS NO.1
Ingredients
• 80-100ml Maxwell Spiced Mead
• 30ml Canadian Club
• 1 Teaspoon Berry Coulis*
• 6 Mint Leaves
• Squeeze Lemon Shake
• Soda Water
• Ginger Ale
Method
Place Spiced Mead, Canadian Club, berry coulis, lemon shake and mint leaves into a cocktail shaker with ice and shake vigorously.
Serve in a tall glass (unstrained) and top with even amounts of soda water and ginger ale.
* Berry coulis can be substituted with a good quality dark berry jam.
__________________________________________
GINGERBREAD
Ingredients
• 30ml Maxwell Liqueur Mead
• 30ml Kraken Black Spiced Rum
• 45ml Monin Gingerbread Syrup
• 1/2 Gingerbread Man
• 2 Scoops Vanilla Ice Cream
• 15ml Sugar Syrup
• 1 Scoop Ice
Method
Place crushed ice in a martini glass. Mix all remaining ingredients in a cocktail shaker & pour into a glass.
Garnish with lime leaf & a slice of golden peach or nectarine. Add a slice of lime to the glass.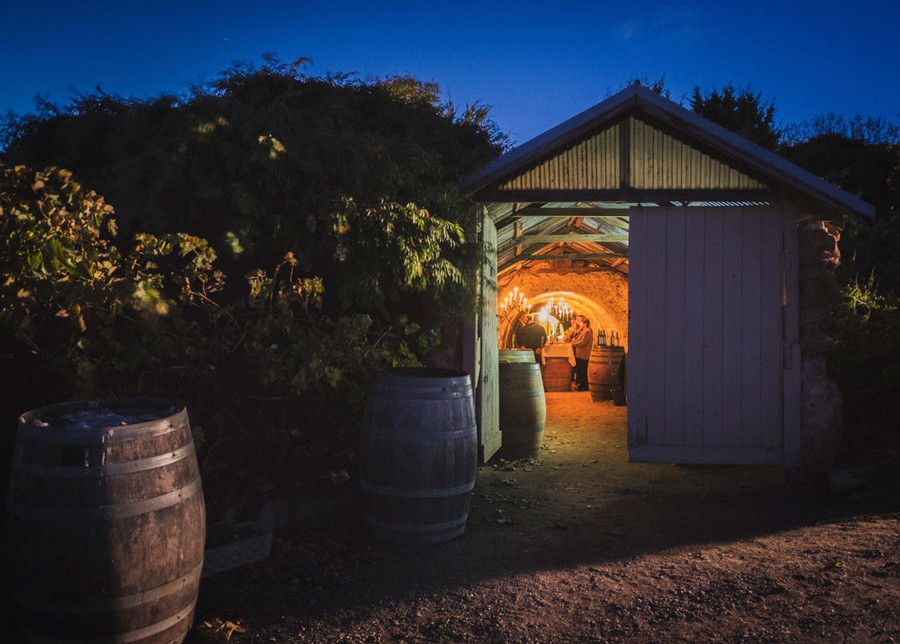 Maxwell Restaurant is celebrating its new Saturday evening opening hours next month, by offering its guests pre-dinner canapés in a 100-year old cave.
The brand-new dining experience, which launches on Saturday 5th December, includes a tour of Maxwell's working winery, along with champagne and canapés in its candlelit Lime Cave, gouged 50 metres into a limestone hill behind the cellar.
Diners will also be able to witness fresh mushrooms growing within the cavern, before indulging in the new degustation menu in the restaurant.
"We are thrilled to be able to offer this magical and memorable event at Maxwell's on Saturday evenings," says Founder and Winemaker, Mark Maxwell.
"The Lime Cave is one of our most talked about experiences, usually available exclusively to private bookings. Now, throughout December, our weekend diners can immerse themselves in its unique surroundings, before relishing the delectable dishes on our degustation menu".
Head Chef, Fabian Lehmann adds: "Once again, it's been a pleasure working alongside South Australian food producers to design and create our new summer menu. The team here are excited to present it to local diners and visitors who may be staying in McLaren Vale over the weekend and discovering the breath-taking beauty of this world-class food and wine region for the first, or even fifth time!"
The summer degustation menu features a selection of carefully curated dishes from our state, which can be paired with Maxwell's estate wines, for the ultimate regional dining experience.
Alongside its upcoming Saturday evening opening hours, Maxwell Restaurant is also open Friday to Sunday lunchtimes from midday.
Prices:
- Degustation menu: $110pp
- Canapes in the Lime Cave and Degustation Menu in the restaurant (Saturday 5th, 12th and 19th December only): $150pp
- Wine pairing: $45pp (current vintage), $70pp (museum selection)
For more information or to book, visit our Maxwell Experiences page or call 08 8323 8200.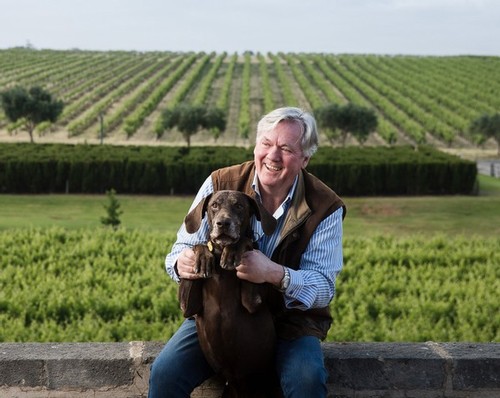 Some of you reading this have been part of our Maxwell family since 1979, and for some of you it has been your parents who discovered us. Our business as always been about offering value and consistency to our loyal members. To keep in contact by phone and email, creating special memories for you during your visits to the winery, hoping to have an honest and value driven relationship into the future.
We have a great appreciation for our members, it was your continued support through this time that has kept the business alive. I sincerely hope the Pandemic hasn't affected your health or livelihood and you can look ahead to see the light at the end of that famous tunnel.
The key to a small family owned business, like Maxwell is the enthusiasm and loyalty of my team. I can say with real pride that it's such a joy to come down the hill to work every day to find smiling faces tackling the chores, whether its writing a new menu for the restaurant, pumping wine into barrels or pruning old vines on a winters day.
The start of the 2020 vintage was drier than average with rainfall 20% below average, a benefit being low disease risk. In late November, we had a very hot day followed by strong gusty winds, which reduced the crop by up to 50%. The vines then endured a hot December, but relief came in January, with a period of a 12 days straight of a perfect 30 degrees.

Welcome rain came in early February, which helped to freshen the leaves.
We started harvest on February 20th, hand picking some Tempranillo and Shiraz 2 weeks later. The result has been wines of intense flavours and colour, but only half the volume of a normal year. It's hard to predict the future, now more than ever but whatever unfolds, I trust we can continue to keep our friendship alive and of mutual benefit.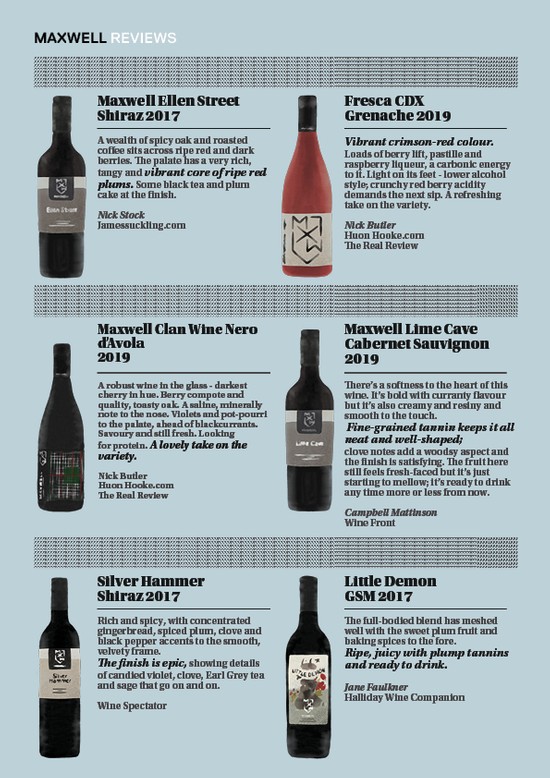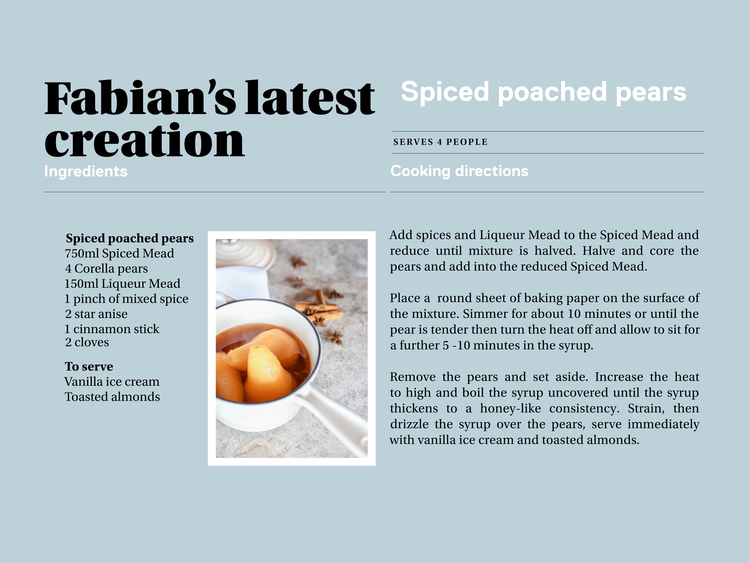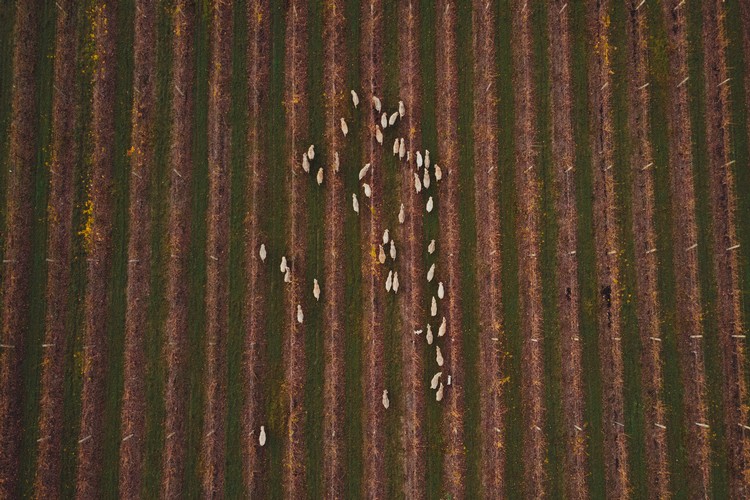 In cellar doors, in wine shops, from journalists, even on back labels , is a recurring theme of how the vines have been treated.
It could be by sustainable viticulture, holistic, organic, biodynamic, hydromatic ** sorry.. that's a song from Grease. With a variety of different methods, we are clearly moving from mass production to caring about the quality of fruit and respect for our environment. Every time a tractor drives along a row of vines to plough or prune or harvest or spray, it compresses to soil and so makes it harder for the new tender roots to push through.
One recently adopted alternative is to run sheep in the vineyards over winter, to eat the weeds undervine and midrow. This is a win-win for the sheep owner who gets extra weight on his flock, and for the grape grower who doesn't need to spend money and time on poisons or undervine cultivating , and the waste from the sheep goes back into the soil.
Our experience here over the last 2 years has been very rewarding and so we will continue to re-fence certain blocks to allow sheep to help with the life cycle of a bottle of wine.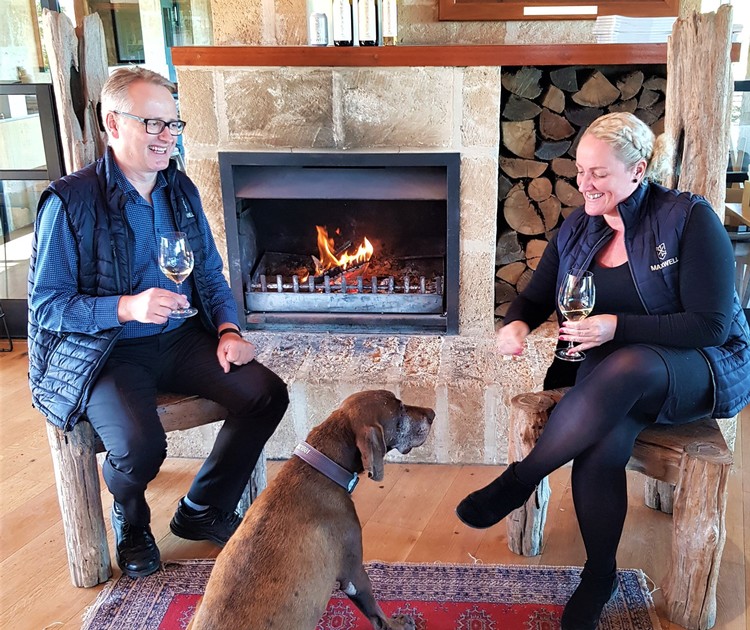 Having the cellar door and restaurant closed was hard for our devoted front of house team to bear. We have been forced to do things a little differently such as Zoom tastings, getting social on Facebook Live and I've (Vikki) been hitting the phones to offer our members special deals.
During this time, it was joyful to chat and share stories. People shared their personal memories with me, it was if we all remember how to really connect with people again. One member was making an anniversary dinner for her husband and wanted to recreate their wedding-day memories buy buying the wines that were served on their wedding day. Another shared with me that her dad had passed away during this period. Not able to attend the funeral with restrictions in place, she bought his favourite wine and sat with glass and remembered him.
We are so fortunate to have such a supportive community and I can't wait to welcome you all back.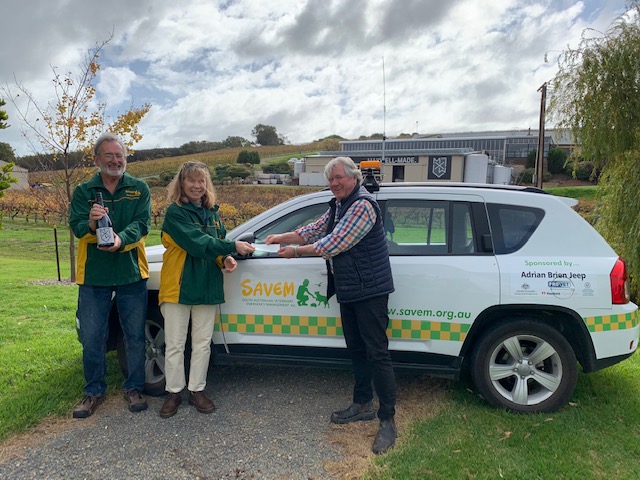 Tragically, in December 2019, the grower vineyard for our esteemed Kangaroo Island Shiraz was destroyed in the bushfires that devastated the island. For those who have had the pleasure of tasting this wine, you can understand what a devastating loss this was. This was our chance to support our friends on KI but to also give back to an island that has given us so much.
Our Bushfire Fundraising dinner held in January was an incredible success. We received an overwhelming amount of support with tickets selling out in days and many suppliers generously donating produce. Fabian Lehmann and his team put together a 6 course Australian feast featuring classics with a Maxwell twist. The night then ramped up when our auction got into full swing and everything from Maxwell magnums to overnight stays on KI were up for grabs. Our fundraiser raised over $30,000 for small businesses who had been directly affected by the KI bushfires. One of those charities was SAVEM. Below is an overview from SAVEM on how your contributions have helped our beloved KI wildlife.
Two-thirds of the Island burned out of control for 22 days. Vast numbers of livestock were lost. Wildlife losses were shocking - early estimates ranged from between 50 and 70 per cent lost. SAVEM's pro-bono veterinary effort was valued at about $300,000.00 and the cost of our consumables for that period was just north of $160K - a significant portion of which was purchased on the Island to support the local economy. Maxwell Wines' donation has contributed significantly to meeting our consumables costs.

A big thank you to everyone who helped make this event a success.